Why Authors Love Writing Fractured Fairy Tales Almost As Much as Children Love Reading Them
!! Leave a comment below to enter a prize draw for a fractured fairy tale by Caryl Hart or Leigh Hodgkinson !!
In the Princess and the Peas, by Caryl Hart, a doctor concludes that a young girl with an aversion to legumes must be a princess in disguise. He instructs her loving dad to dispatch her to the palace at once.
In The Princess and the Pig, by Jonathan Emmett, a baby princess and a piglet swap places, following a hilarious mishap.  When the piglet is discovered in the royal cradle, the King concludes that the transformation is the work of a vengeful fairy, pointing out that, "It's the sort of thing that happens all the while in books."
In Goldilocks and Just One Bear, written and illustrated by Leigh Hodgkinson, Baby Bear — now all grown up — finds himself lost in a great city. He wanders into Snooty Towers, and wreaks havoc in one of the flats. Guess whose?
Twisting and re-interpreting
Fractured fairy tales like these are the delightfully naughty children of the picture book world.
Starting with traditional tales, the authors take unexpected detours, reversing time-honored rules and expectations.
"I am quite obsessed with fairy tales and how they can be twisted and reinterpreted," said Hodgkinson. "They are stories and structures we are so familiar with, that this makes them perfect for playing about."
Thus, when a prince tries to transform Emmett's royal piglet back into a princess with a kiss, the piglet stubbornly retains her porcine shape. Pea-phobic Lily-Rose May soon learns that the palace kitchen serves up a dish even worse than peas, and makes a hasty departure. And Hodgkinson sets her version of Goldilocks in a busy city, rather than an enchanted forest.
Jonathan Emmett described his fractured fairy tales — The Princess and the Pig and Prince Ribbit –  as "agnostic fairy tales," because "they are set in a fairy tale world without fairies. The characters try to interpret their world based on fairy tale logic, and this leads them to do foolish things" — for example, trying to raise a piglet as a princess. "Kids find it very satisfying to be presented with a world where the characters are foolish and for once, the kids are the smart ones who get it."
Hodgkinson also observed the satisfaction her young fans feel when "they realise that they have gotten the joke. They are accessing memories of the original tale and enjoying that this has echoes of it but is slightly wonky."
Challenging traditional values
Fractured fairy tales don't stop at flouting the premises of the fairy tale world. They also question and critique the underlying values.
The backlash against traditional princesses kicked off in the 80s, with the publication of The Paper Bag Princess by Robert Munsch and Princess Smartypants, by Babbette Cole.
These days, authors are also shaking up the entire stratified, hierarchical universe of fairyland.
Thus, Emmett's princess creates her own version of happily ever after by remaining with the loving farmer and eventually marrying a shepherd. Emmett's young daughter protested. "She wanted the princess to live in the castle," said Emmett, "but I'm a small-r republican at heart."
Hart's princess stories, which also include The Princess and the Giant and The Princess and the Presents — subtly undercut a range of stereotypes and prejudices. The dads are single or primary  parents, and are handy in the kitchen. What's more, she champions a traditional villain in The Princess and the Giant, in which the two eponymous protagonists become friends.
"In Jack and the Beanstalk, Jack steals the giant's stuff, and doesn't get punished," said Hart. "For me, growing up, that seemed wrong. The original tales can lack empathy."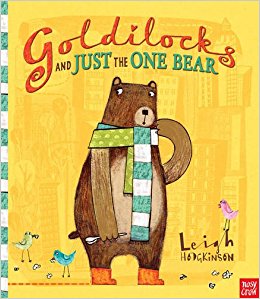 Leigh Hodgkinson was motivated by a similar concern: "The story of Goldilocks and the Three Bears always bothered me — that it was accepted by everyone that a small girl would just go in a house that wasn't hers and help herself to everything. No one ever seemed to question that this was not very nice behaviour and that the bears were the "baddies" for chasing and scaring her at the end. It always seems very immoral to me. So I guess I wanted to explore that and highlight that what Goldilocks had done was not good — and that perhaps, people aren't always aware of their actions and the consequences."
Critique, tribute or both?
While the canon of traditional fairy tales is troubling for a multitude of reasons, authors choose to re-imagine and reconfigure the old stories, rather than to abandon them altogether. Fairyland is such a thrilling and many-splendored playground that they want to make it their own, rather than renounce it. Like most parodies, fractured fairy tales pay a cheeky but profound tribute to the stories they invert.
Hodgkinson recalled that as a child, "I loved the uneasy, wild, anthropomorphic representation of animals in fairy tales, so different from the cutesy big-eyed bunnies and teddy bears that featured in other books around me."
"It gives you more freedom to play with ridiculous possibilities," said Caryl Hart. "In the real world, a parent is unlikely to deliberately send their child away to live in someone else's house. But in a fairy tale setting, such actions are acceptable and commonplace."
"If you are writing a fantasy and building it from scratch, that's a lot of work and you have to stop and explain," commented Emmett. "The advantage of writing into a fairy tale is that everyone knows the setting. It's like a repertory company of players. So you can go in and tell your story and there's enough variety there to find the character you need to tell the story you want to tell."
Counter-intuitively, he suggests that a fractured fairy tale can be used effectively to engage boys (who are often reluctant readers) because they "enjoy the peril" that is lacking from picture books with realistic settings. They hoot at the spread in The Princess and the Pig in which the narcissistic queen unwittingly drops her baby princess over the turret balcony, "down, down down into the farmer's cart," seesawing the farmer's piglet "up, up, up into the princess's cradle."
The extraordinary and absurd possibilities of the fairy tale world invite authors and illustrators to flex their creative muscles.
Leigh Hodgkinson so enjoyed experimenting with Goldilocks' sets of threes — not too big, not too small, and just right —  that one book was not enough.  This year, she published a second, Goldilocks and the Three Potties, in which she pairs "'not too big' with an image of one of Daddy's wellies, and  'not too small' with the image of a tiny toy teacup. Children squeal with laughter at the thought of Goldilocks weeing in them."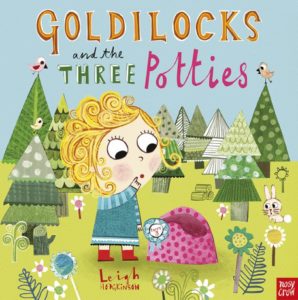 The extremes of the fairy tale world are entertaining – but they are instructive as well, serving as a kind of magnifying glass that enables readers to examine issues that are very relevant to children's own lives. The zanier the situation, the more serious the underlying message. Thus, said Hart, "the humour of The Princess and the Peas is in thinking that life is better somewhere else, when in reality, you are often better off at home."
"Read the old stories"
Issues pertinent to children are sometimes presented most forcefully in the original tales themselves. Which is why authors encourage parents and educators to continue share these stories — warts and all —  with the children in their lives. Emmet is pleased that schools often use The Princess and the Pig as a launchpad for exploring the texts that the characters reference. "That was something in my mind when I wrote it," he said. "I was keen to have a book in which the characters read."
"What I always loved about traditional fairy stories was that they were magical, intriguing and often puzzling," said Hodgkinson. "The fine line between the safe and the unfamiliar is what helps push the boundaries for children. The allure of the house made from sweets pulls us in, yet the threatening witch who lives in it repels us. The tale always ends happily, so whatever we felt about the bits that have challenged us and made us feel uncomfortable dissipates. But the fact that these feelings have been explored, I think, is vitally important.
"As a child I sometimes thought that the things the characters did in fairy tales were not things that I would have necessarily done," she continued. "They left me with more questions than answers. This meant that as soon as I read such stories and closed the book, I didn't forget about them. They stayed with me and occupied my thoughts and imagination. They were narrative metaphors and visual representations of things I didn't fully understand, to be unpicked and pored over.
"So in that way, I think they are good platforms for discussion and interaction between a child and parent. Traditional fairy tales present alternative ways of thinking about things — about morality and why things happen. This is all very nutritious stuff for children's minds."
Lifelong nutrition at that — particularly for writers.
Emmett said that he has recently returned to Grimms' Fairy Tales, reveling in their darkness. He advises aspiring writers to "read the old stories – the Grimms' texts. They might surprise you and take you down unexpected paths."
****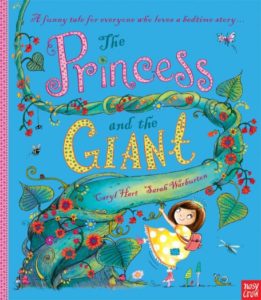 Caryl Hart and Leigh Hodgkinson have generously offered to donate copies of their books for a prize draw. Leave a comment below by Wednesday, May 31 for a chance to win The Princess and the Giant or Goldilocks and the Three Potties. Winners will be chosen at random 
****
Frolicsome fractured tales
Fractured fairy tales seem to be everywhere these days. These top the charts: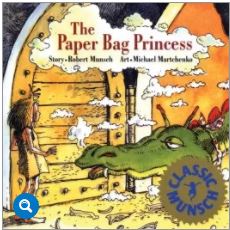 Babbette Cole, Princess Smartypants
Jonathan Emmett, The Princess and the Pig
Caryl Hart, The Princess and the Peas
Leah Hodgkinson, Goldilocks and Just One Bear 
Robert Munsch, The Paper Bag Princess
Jon Scieszka, The True Story of the Three Little Pigs
Alex T Smith, Ella
Leah Wilcox, Falling For Rapunzel
Roald Dahl, Revolting Rhymes
Laurence Anholt, Seriously Silly: Scary Fairy Tales
This gentle reworking of The Frog Prince from the 1970s BBC television series, Bagpuss, is also a delight.
Sumptuous traditional versions
Fairy Tales of the Brothers Grimm. The Taschen translation of the original texts features vintage illustrations and bold contemporary silhouettes.
Ladybird's Well-Loved Tales are clear and frank.
Classic Fairy Tales by Berlie Doherty are poetically narrated  and evocatively illustrated by Jane Ray.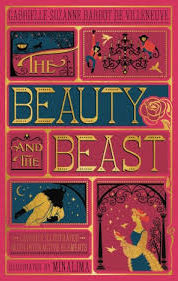 In 2017, Harper Design released a 208-page, boldly illustrated translation of The Beauty and the Beast, first published by Gabrielle-Suzanna Barbot de Villenueve in 1740. This unsettling three-part novel, which has been transformed almost beyond recognition by Disney, was originally intended to prepare young French girls for arranged marriages.
Something in between . . .
Lauren Child's exuberant interpretations of Goldilocks and The Princess and the Pea retain the original plots, but feature Child's signature an,d very contemporary, narrative voice. Child teamed up with photographer, Polly Borland and set designer, Emily Jenkins to produce detailed still life photographs that partner playfully with the text.
. . . and something for adults
Bitter Greens by Kate Forsyth interweaves a chilling, extended version of Rapunzel with the bolder-than-fiction story of Charlotte-Rose de Caumont de la Force, the seventeenth century author of Persinette, an early French version of Rapunzel.
Last but not least: yours!
Try writing your own fractured for a child in your life – or write one together.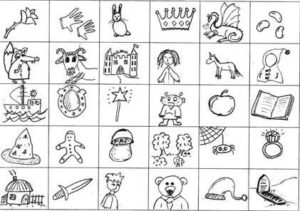 To get started, you can click here to download Caryl Hart's interactive story card exercise. She provides a downloadable grid of 30 images of characters and objects that typically appear in stories, such as a sword, a castle or magic beans. Print off the grid, cut it up into cards, shuffle them, and pick six – either at random, or because they intrigue you. Then structure a story to incorporate those elements.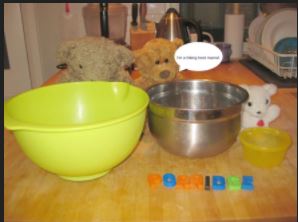 For more ideas, click here to read fractured fairy tales composed by participants in a Mums Write! workshop, and click here for a slideshow of Goldilocks that I shot with my son and his pal when we were housebound on a snow day.
Hodgkinson's advice for newcomers to the genre: "There is a fine balance between changing enough and making it your own — i.e., giving it your voice and your fingerprints — but keeping constant enough of the original (in whatever form) for it to be clear and recognisable. I think you need to be playful with integrity."