I love alphabet books because they spotlight the building blocks of written language – my raw materials, as a scribe.  And somehow, generations of writers and artists have found fresh ways of placing an original stamp on this well established genre.  At their best, alphabet books not only educate – but they also offer a unique window onto some aspect of the world, or the creator's idiosyncratic vision.   Classics such as
Anno's Alphabet
, by Mitsumasa Anno, 
Curious George's ABCs
by H.A. Ray, and
Dr. Seuss's ABC
deserve their inconic status.  But recent additions to the pantheon show that there is always room for yet another inventive variation on the theme.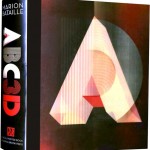 ABC3D!  by French designer, Marion Bataille rates a Michelin Star. In this dynamic pop-up book, cardboard letters in red, white and black  fairly spring off the page and transform one into the next.   Letter 'C' flips over to form a "D".  Lowercase 'i' and 'j' juggle a large dot, and a reflective panel cleverly extends 'V' into 'W'.  Check it out on You Tube.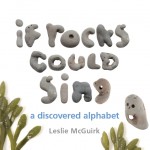 If Rocks Could Sing, by Leslie McGuirk, is subtitled "A Discovered Alphabet." Leslie McGuirk collected letter-shaped rocks on the Florida shore for a decade to complete her set of 26, beautifully photographed by Denise Ritchie.  But wait! There's more!  Opposite each letter is a rock that represents a word beginning with the discovered letter.   For B, a bird shaped rock tends her egg in a nest of twigs.  For C, a couch potato lolls on a divan,  and a D-is-for dog rock sports a bright red collar and sits at attention outside his wooden dog house.  McGuirk's labour of love reminds us to observe our world more carefully, and sensitize ourselves to the everyday marvels that reward a keen eye.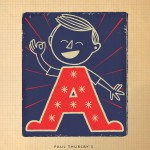 While McGuirk invites us to explore the world outside, Paul Thulby's Alphabet may spur us to reach for our felt tips and withdraw to the art table, because he makes illustration into such an exuberant game.  In his alphabet, each letter is fused with a representative word. "C"-shaped arms catch a football, "G" is graffitied onto a brick wall, and 'Y' is a yogin, precariously balanced.  His blocky illustrations in a muted palette of tangerine, rose, teal and khaki recall mid-20th century posters, and transport the reader to a more innocent time.  Lest one mistake Thulby's visual antics for child's play, he appends an extract from his sketchbook, which shows the many attempts and refinements required to arrive at his 26 gems.
If these books are inspired, I hope that they are also inspiring.  Because there's always room for one more alphabet book on the shelf—the one that you create yourself, using words and images that have a special resonance for the Absolutely Brilliant (or Bonkers, or Both) Child in your life.  Watch this space — I will be blogging shortly about alphabet-based activities with children.