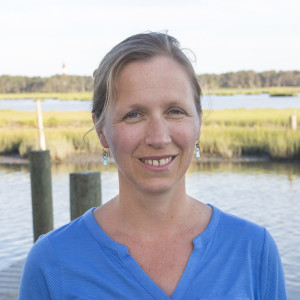 Award-winning children's author, Sandra Horning, was inspired to write her first published book, The Giant Hug (2005) by a real-life hug she shared with her toddler son. Her subsequent children's books, Chicks! and The Biggest Pumpkin have both drawn on her experiences as a mother — raising chicks with her children, and taking them to country fairs.
I interviewed Sandra from her home in Connecticut because I was interested in how her parenting nourished her writing — and how she evolved from a mother who loved sharing stories with her children into a published author.
Key messages that came through her interview were first, the value of children's books as a vehicle for connecting children and adults across generations; and second, that if writing is an art, submitting for publication is a job: Researching editors and publishing houses, keeping up with industry trends, and formulating convincing query letters are as important to securing a publication contract as coming up with a page-turning premise.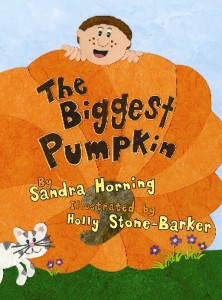 Can you talk about how you began writing children's stories?
I started writing in 1995, when we moved to Ireland. My husband was getting a master's degree. At that time, even though I was working at a small software company, most of my friends and family were not on e-mail, so I was hand-writing letters with stories about things that happened in Ireland. Several of my friends started encouraging me to write.
This led to me to write some children's stories. Since I'd worked in the children's section of a bookstore and always loved picture books, it fit in with my interests. I have a younger sister who's 15 years younger than me, and when I was in high school I spent a lot of time reading to her. It was a way we could connect.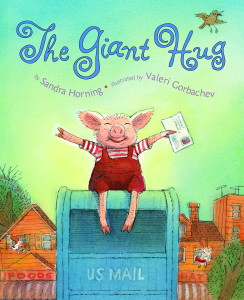 How did you begin writing The Giant Hug?
It was a story that came to me at a moment when there was a lot going on in my life. My dad had just been diagnosed with ALS (amyotrophic lateral sclerosis, a neurogenerative disease) and we were told he wouldn't have long to live. One day, my two-year-old didn't want to take a nap. It was like he could feel my stress. He gave me a big hug. I started thinking — wouldn't it be great if a hug could just melt everybody's stress?
The Giant Hug is a happy story about a little boy named Owen who sends a hug to his granny by mail but it came from very deep emotions. It was a giant hug to my parents and what they were going through at the time. It was also a tribute to my dad's life working for the postal service. My dad's name is Nevin, and Mr. Nevin is the postal worker who receives the first hug.
And in the end, my father didn't have ALS, and I'm happy to say he's still alive.
Can you talk about the process of seeking publication?
I didn't really start submitting until after I came back from Ireland. My first son was born the year we got back. I started taking a correspondence class at the Institute for Children's Literature in Connecticut. A portion of the course was about how to write query letters and how to submit. I would say that's where I learned how to submit properly.
Submitting takes a lot of work. Query letters feel like they take as long to write as your story. It's important to put your hooks in there – i.e., the selling points. Why would someone buy your book.
And there's a lot of research involved in figuring out which editors and houses to submit to. I did a lot of research, and spent a lot of time in bookstores looking at what had just come out and seeing who was printing what, and where my story would fit in with their list.
With my first batch of submissions, I sent the manuscript to the publisher. I was very lucky, because an editor picked it up off the slush pile and contacted me. I wouldn't do that now. Now, my submissions are much more focused. I would submit to a specific editor. That makes it more likely that a story will be read, and that you will get a response.

How do you figure out where to send your work now?
I currently have relationships with a handful of editors at several different houses. If my manuscipt seems like it would be of interest to one of the editors I know, I will send to them first. After that I will look through my notes from conferences and editor panels, and do research online to come up with a list of possible editors.
Editors want to know why you are submitting to them. So many editors receive manuscripts that are not a good match.
What do you think prompted a publisher to select The Giant Hug for publication?
It had a lot of hooks. It follows the real process of how mail travels. It has the theme of how a hug can brighten everyone's day and it is multi-generational. Someone might buy it because they are a grandparent and they live far away from their grandkids. A teacher might buy it to show how mail moves across the country and someone might buy it to show how a hug can build community and "pay it forward".
Can you talk about the process of taking The Giant Hug through to publication, once it was accepted?
It didn't get accepted at first. Initially, I got a letter from the editor saying, "This is a great story, but it needs revisions."
Then she sent me suggestions for it. I worked on it and sent it back to her. It took two rounds and then 8 months, later, I got an offer. My book contract came in 2002 and it wasn't until 2004 that I got the galley proofs.
[Interviewer's note: The Giant Hug was finally published in 2005. Being a chidren's author takes patience!]
The main thing was to shorten it. I tend to write longer stories, and The Giant Hug is pretty long by today's publishing standards. So I had to cut two hundred words. My editor also wanted me to show the direct result of the hug on every character [as the mail clerk, van driver, pilot, etc. pass the hug along the mail delivery chain].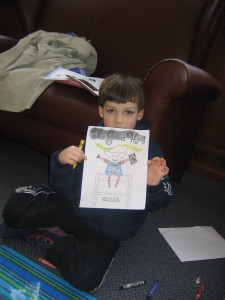 Did you provide any input to the illustrator?
Originally, I had imagined that the characters would be people. Then I got a phone call one day asking, "How would you feel about animals?"
I was a little surprised, and it was hard to let go of my vision, but my editor explained to me that she trusted the art director, and that opened up the door for different kinds of illustrations.
When I got the sketches in galley form, I sat down on the couch with my son, Eoin, after whom I'd named the main character. ("Eoin" is the Irish spelling of "Owen"). I pulled the pages out of the package and we looked at them, one by one. At the end my son turned to me and said, "Mom, they're pigs. We're not pigs!" I had never told him the illustrations would be animals. It took him a while to get over that. But I was thrilled.
How has becoming a published author changed your life?
One of the best things is that I've met a lot of wonderful authors, and I have a group of ten published children's authors with whom I meet weekly. I never would have met them if I hadn't' become a published author.
They're all women too. In addition to critiquing stories, they provide a lot of support about the ups and downs of the process, and the ups and downs of balancing writing with motherhood and life. I always thought that once you were published it would be an easy road to sell your next book, but it still takes a lot of work to find a good match.
Can you make a living as an author?
I do have income from my writing but I have to supplement with other jobs [as an academic copy editor]. Most of the other writers I know do as well.
With the exception of a few best-selling authors and/or Caldecott Medal winners, I know very few picture book authors who make ends meet just by writing. But I do know a number of authors who make a living by writing and doing author-related work, such as school visits, teaching writing, speaking at conferences, writing curriculum guides, taking on work-for-hire projects, etc. Much of this additional income requires authors to promote themselves.
Self-promotion does not come easily for me, but I am getting better at it, and my goal is to keep getting better at it. It also helps with future book acceptances, as publishers want authors who are out there promoting themselves.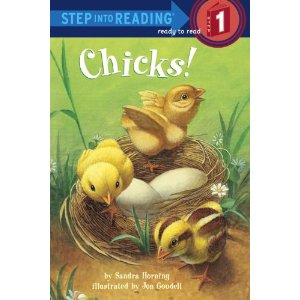 Can you talk about how motherhood affects your writing?
The topics of my books are all tied in with things I have done as a mother. My beginning reader book, Chicks! comes from our experience getting chicks and raising chickens. Same with The Biggest Pumpkin. That was inspired by going to agricultural fairs in New England with the kids and seeing biggest vegetable competitions.
Until now, almost all my stories have had male protagonists, because I raise two boys. Now that they are older, thirteen and sixteen, I'm starting to reach back to my own childhood. In the past six months, I've written several stories with girl characters.
What advice would you offer to others seeking to write children's stories for publication?
Joining the Society of Children's Book Writers and Illustrators (SCBWI) and attending one of their conferences or workshops are great ways to get started on the path to publication.
At most conferences, they have editors you can pay to get a critique. One of the first ways you can get real feedback from an editor is to sign up for one of these, and meet an editor face to face. SCBWI also puts out a listing of publishers and editors, which is a great resource — The Book: The Essential Guide to Publishing for Children.
What should beginning authors know about the picture book market?
It's a fickle market. When the economy tanks, so does the market for picture books. And a lot is expected from authors re publicity and promotion in a way that wasn't, twenty years ago. You are expected to have an internet presence, such as a website, Facebook page and/or a Twitter account.
Also, word counts are getting shorter, now that schools are teaching children to read younger and younger. They make the jump to chapter books sooner. It's hard to sell a picture book that's longer than 600 words.
Is it essential to seek agent representation?
Not really — at least for the US market.
The thing is the search for an agent can take as long as the search for an editor. Then , when you have an agent, you are competing with all the agent's other authors when they decide which manuscript to send to a publisher. Also, many agents do not accept submissions from picture book authors. They only accept from authors/illustrators.
Some publishing houses say they have closed submissions (i.e., will only accept submissions from agents.) But usually, if you submit directly to an editor, they will read it. I led a workshop last spring on publishing without an agent, and sent a survey to a dozen editors asking how likely they are to read unagented material. The answer was that almost every one of them will read unsolicited manuscripts, as long as it's targeted specifically to them.
Of course, it could be different in other countries.
Who are your favourite children's authors?
Some are the ones from when I was young– James Marshall, and Arnold Lobel, and beginning readers like Little Bear (by Elsa Holmelund Minarik). For contemporary authors, I like Cynthia Rylant, Doreen Cronin, and Sandra Boynton — my boys loved her boardbooks.
I like a lot of the more traditional books that remind me of my own childhood, like Little Bear I love the simplicity of beginning readers, trying to get a story across with as few words as possible, and keeping the language simple. They are the kinds of stories my own kids read over and over when they were learning to read.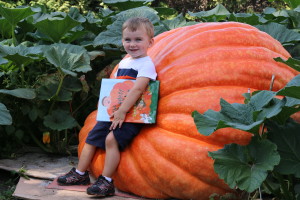 Sandra Horning's first book, The Giant Hug, (40 pp) is published by Random House Inc. Her most recent book, The Biggest Pumpkin (32 pp) is published by Pelican Publishing Company.