Early years teachers discuss the role of picture books in the classroom.
This article is the second in a series I am writing about the picture book market. Previously, I spotlighted Nic Bottomley, founder of the award-winning independent bookstore, Mr. B's Emporium of Reading Delights, who spoke about selecting and promoting picture books. Here, I interview reception year teacher, Marina Routledge and early years foundation coordinator, Samantha Hayward, about how they integrate picture books into the classroom.
"As a school, we couldn't function without picture books," said Samantha Hayward, the early years foundation coordinator (nursery through reception) at Sevenoaks Preparatory School in Kent, England. "Everything we do hinges on them."
Essential Resources
Where do books feature in the school day?
Once or twice a day in a group storytelling session, for starts — Mrs Routledge, who teaches reception at Sevenoaks Prep says that on days when she can only fit in one, she feels that, "I should have read more."
Reading one-on-one provides comfort and reassurance to nursery-aged children and challenges the older ones to strengthen their burgeoning decoding skills.
"We also use picture books to reinforce our topic work," said Mrs. Hayward. "Books like The Teeny Weeny Tadpole give children a personal view on a factual topic about the frog life cycle. Some children thrive on fact books, but some are not able to retain that information, so you have to find a different way to give it to them."
In a recent topic on underwater life, Mrs. Routledge used Tickly Octopus by Ruth Galloway to introduce the parts of this odd cephalopod — including tentacles, suckers, and ink. "We all had a go at writing the word 'octopus.' Then I picked up the book to show them how it's actually spelled, and we had a laugh," she said.
Picture books furnish exemplars for lessons on punctuation, supply plot lines for school productions and enliven discussion in school assemblies, about morals, ethics, and behaviour.
Mrs. Routledge said that Stick Man by Julia Donaldson features in assembly every year, "because it's a book that makes children memorise the message that we do not run with sticks. Children identify with Stick Man, so it reinforces the message."
Chosen with Care
Given their importance, picture books are chosen with care.
"Illustrations at this age are as important as the content, because young children are visual learners," Mrs. Routledge said. "And I think that if you're sharing a book, it's all about the clarity of the text. One central character and one plot line."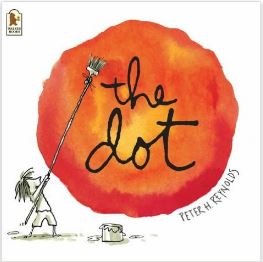 "Simple pictures, and simple messages," agreed Mrs. Hayward, reaching for her current favourite, The Dot by Peter Reynolds, in which a girl begins to overcome her conviction that "I can't draw" by drawing a single dot on a page.
"Even from the front cover, I knew it was going to be a winner," she said. "The very simple title. And when I flicked through it and saw the simple illustrations — mostly black and white, with just a splash of colour — I had a feeling that it was going to be one of those books I was going to connect with. I use it to help the children understand the concept perseverance."
Repetition and Rhyme
Both educators favour repetition and rhyme. "A repetitive story [such as We're going on a Bear Hunt by Michael Rosen] is a great one, because you keep coming back to the motif, and then you move on. By the end of it, the children are joining in, and later in the day, when they're playing, you hear them say it," said Mrs. Routledge. "And children love a rhyming story because it helps them to listen, focus and remember."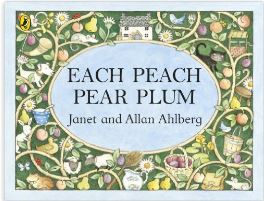 Mrs. Hayward points out that in the classic Each Peach Pear Plum, by Janet and Allan Ahlberg — beloved by her two-year-old son –"there is the same rhyming pattern on each page. Even though we've only been reading it for a couple days, Harry has learned the pattern, so he can join in, and start to 'read' the book to me."
(Teachers' love for rhyme is interesting, because the picture book industry consistently advises new writers to avoid it. My take away: A rhyme is a swell, if you do it well.)
Books to Avoid
What books have they learned to avoid?
Apart from the obvious ban on racist, sexist or otherwise exclusionary material, educators generally bypass chaotic or comic-book style illustrations.
"Sometimes, I find the illustrations too overwhelming and I think that if I'm finding the illustrations overwhelming as an adult, the children definitely will," Mrs. Hayward explained.
And while scatalogically naughty books such as the exuberant Who's in the Loo by Jeanne Willis may be great fun at home, Mrs. Routledge avoids toilet humour from her classroom because, "you get a lot of smirking, and not much listening."
More Simple  Non-Fiction and Non-Traditional Role Models, Please
What sort of books do they wish they could find more readily?
Mrs. Routledge feels there are not enough quality non-fiction offerings, written in simple language, targeted at the five-and-unders. "Everything is way too complicated for them," she says. "A lot of children are interested in nature, life under the sea, the stars and planets. They need books with simple statements about these topics."
On the fiction side, non-traditional protagonists top her wish list: "Please can we have a few more girls who play football, and boys who, say, like to ride horses?" she asks.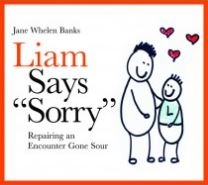 Mrs. Hayward scavenges the internet for books on the "relationship side of things" — i.e., how to build friendships, behave with others and negotiate social situations. The gems — such as, the Lovable Liam series by Jane Whelen Banks  — are often, "quite well hidden."
Hidden, but worth the search, because what teachers value most is the intense connection forged through shared reading.
Connecting Through A Shared Love of Books
Mrs. Routledge savors the magical moment when her class is so intent on a story that, "you could hear a pin drop. There is something very special about having children in the palm of your hand while you are reading to them."
The added pay-off is the discussion that follows, when "they remember things they have done that may be similar to the story. That's the start of them sharing their ideas. You'd be surprised at how far you can travel from a story, once you start talking."
She urges parents to extend this experience at home, where "you get even more opportunity to go completely off piste as you discuss a book."
"Even if it's just ten minutes on the sofa," Mrs. Hayward said, "you're letting them know that reading is a time to enjoy and be with someone special."
How should parents get started?
"Ignite that inner child inside of you," Mrs. Hawyard advises. "Choose a book that your inner child would love and allow your child and your inner child to connect."
Teachers' Picks: Their favourites in the classroom, and at home
All Kinds of Beliefs, by Emma Dodson – Helping children to understand the range of religions they may encounter.
The Brambly Hedge series by Jill Barklam – With lovingly crafted, intricate illustrations for older children.
The Dot, by Peter Reynolds – Simple illustrations and a clear message about persistence.
Each Peach Pear Plum, by Janet and Allan Ahlberg – A gentle, memorable rhyming scheme.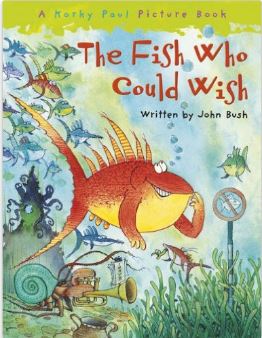 The Fish Who Could Wish, by John Bush  – "We read the story and then talk to the children about what they would wish for," Mrs. Routledge said.
The Day the Crayons Quit, by Drew Daywalt – The basis of a smash hit junior school production.
We're Going on a Bear Hunt, by Michael Rosen – Well, what would you do if you tracked down a bear?
The Loveable Liam series by Jane Whelen Banks – Simple messages and warm hearted illustrations to help kids negotiate the complexities of their expanding social world.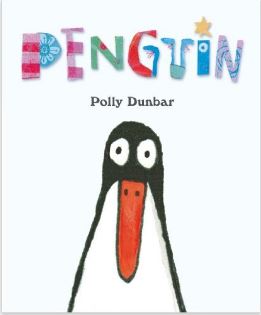 Penguin, by Polly Dunbar – Ben is fed up with his oh-so-silent penguin pal. But when a hungry lion crosses the page, Ben learns the value of a quietly courageous wingman.
Stick Man, by Julia Donaldson – Reinforcing the message, 'Don't run with sticks'.
Stuck, by Oliver Jeffers – According to the author, "A book about trying to solve a problem by throwing things at it."
The Teeny Weeny Tadpole, by Sheridan Cain – Everything you need to know about the frog's life cycle.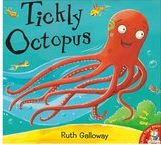 Tickly Octopus, by Ruth Galloway  Tentacles, suckers and ink, oh my!
Where the Wild Things Are, by Maurice Sendak – Younger children relate readily to the strong, clearly-rendered emotions. Older children begin to realise that Max's journey takes place in his imagination.
PS – Speaking of cephalopods, If you need a new way to remind your kids to wash their hands every time, the outrageously inventive, Who's In the Loo, by Jeanne Willis can do it for you, with tact and wit in near-perfect iambic pentameter.