Every single word counts. Four years after my first attempt, I sold my first manuscript, When You Were Born. It's a factual account of everything that happened when my babies entered the world, but it took all those years to get it right.
Award winning children's author Dianna Hutts Aston has written over a dozen fiction and non-fiction picture books for children, including An Egg Is Quiet and A Seed Is Sleepy, illustrated by Sylvia Long. The Moon Over Star, illustrated by Jerry Pinkney, received a Coretta Scott King Honor, 2009, and was selected by President Barack Obama and First Lady Michelle Obama to read at an inner-city school in Washington, D.C. Her latest book, A Nest is Noisy (Chronicle Books, San Francisco, 2015) is a Junior Library Guild selection.
Can you talk about how you began writing picture books — and why were you drawn to this medium?
In my long-ago life, I was a journalist. In that form of writing, you must write succinctly. The lead—the first sentence of an article—must make the reader want to continue reading. You have to pack a punch in as few words as possible. This is what you must do with the first sentence of a picture book: Make the reader want to turn the page. This is key. "And then what happened?"
Writing picture books was something I'd never dreamed I would be drawn to until after the birth of my now-grown children. When they were little, I read to them. At first, books like The Berenstein Bears and Richard Scarry, but then I discovered books by Cynthia Rylant, Patricia MacLachlan, James Marshall, Jane Yolen, Kevin Henkes, William Steig and so many more. I hadn't read picture books since I was a child and these books made me cry, laugh, filled me with wonder.
I thought to myself,"Hey, you're a writer. You can do this. Easy peasy." Ha. Writing a book for children seems so easy. It's NOT. Every single word counts. Four years after my first attempt, I sold my first manuscript, When You Were Born. It's a factual account of everything that happened when my babies entered the world, but it took all those years to get it right. Its fruition came after taking a grueling workshop with Kathi Appelt, one of the most inspiring writer-teacher-poets on earth today. Although Candlewick Press (a US-UK publisher) said they didn't take unsolicited submissions, I submitted anyway. What did I have to lose? The woman who became my first editor e-mailed back with an offer.
People often assume that because picture books are short and accessible, they must be easy – or at least, fast — to write.  Can you talk about the process of shaping an initial idea into a final draft ready for publication? 
First, NO, it is not easy. Second, I mostly write non-fiction, so I have to research a topic tremendously and then condense the information into a few words. As I research, the words begin to come to me. Sometimes, the process takes a couple of months. Sometimes, it takes a few years. People have asked me the question often, "What is your process?" My response is, "I don't have one." I get lost in my topic and write as it comes to me. It's that simple.
Books such as When You Were Born or Mamma's Wild Child speak to me so powerfully about the experience of motherhood. Would you say that you write for parents, as well as for children? And who is your ideal audience?
Our greatest teacher is Nature. Everything you need to know is born of it. What are all of the elements of an egg or seed? Why? There is a reason for everything and as you research, you find out. Why and how are the two questions that most inspire my curiosity. Seeds…without thought, they are bound to heed gravity and to reach for the sun. Eggs… how does the little creature inside breathe air? What is the role of albumin? You search for the answers and then figure out how to write the words engagingly, in a way that is familiar to children. For instance, an eggshell is the creature's home, its nursery. Albumin is a pillow. The shell contains microscopic "open windows" so air can pass through.
My ideal audience is everyone. I want adults to love them as much as children. When I write, I really don't think about the audience. I write for myself. I hear the words in my head. This is called "voice" and it's the biggest challenge for a writer. You can't force it. Thankfully, I've always heard the voice for my non-fiction stories. Writing fiction is still a challenge for me…and I'm actually not a born story-teller, hence non-fiction. I love the research.
You said that you began writing when your daughter was a newborn. How did you balance the demands of writing and parenthood? 
I wish I had an interesting answer. When the idea to write picture books grabbed me, it was all I wanted to do. So whenever I had one minute or five or thirty, I wrote. Or I read picture books for inspiration and studied them. The library was a lifesaver. I checked out about 40 picture books every two weeks. The four years I wrote before the publication of "When You Were Born" were like a self-taught university. And, I will admit this: I used Barney…that creepy purple dinosaur on PBS [Public Broadcasting Station]. I'd plop my toddler, Lizzy, in front of Barney for an hour and write. What is it about Barney that's so compelling to little ones? I'm grateful to it/him though.
How did the challenges of writing-while-mothering-while-writing change, as your children grew older? 
At 6:30 a.m. the bus picked up my children for school. I drank a pot of coffee and wrote or researched or contacted published authors while they were in school. When they came home, it was all about them and their activities. So balance? You write when you can. I tried writing when they were home. I became so immersed that I didn't hear anything except the words and ideas that consumed my mind. Lizzy would take my head in her hands and twist it toward her, so I would hear her. It took a few moments to come back to reality. After that, I only wrote when they were in school or when a teenage mother's helper came for an hour.
Do you share your books with your children – and have they inspired any of your stories?
The birth of my children inspired my first sale: When You Were Born
I understand that your son was diagnosed with dyslexia. How did the experience of raising a child with a learning disability influence your writing — and did your skills as a children's writer inform your approach in helping him with his challenges at reading and writing?
First, I don't think of dyslexia as a disability. Some of the most gifted people have or had it: Einstein, Picasso, Edison, Jefferson, Johnny Cash, Winston Churchill, Tom Cruise, Charles Schwab and many more. In public schools, they typically teach to what I call "the herd." (Not in a derogatory way – just the masses). A child with dyslexia is like a purple cow in a brown herd. They feel as if something is wrong with them. School was a torture for my beautiful son…and for others with it. I was so clueless and frustrated I started a support group for parents of children with dyslexia. So many parents felt as I did: We just didn't know how to help. When Einstein was a student, his schoolmates were learning 1+1=2. He was thinking about, "How far does light travel?" People with dyslexia tend to think outside the box.
My favorite of my books is Dream Something Big. Simon Rodia, the self-taught architect of The Watts Towers in Watts, California had dyslexia. This book is dedicated to my son, James, and to my many friends with the gift of dyslexia.
Is it important for a writer to have a community of fellow writers? How did you create that community — and did being a parent with young children help or hinder that process, in the beginning? 
YES, especially in the beginning. I joined SCBWI (Society of Children's Book Writers and Illustrators), which should have a chapter near you, and met many of my writer friends. We formed critique groups and their input was crucial to my success. Through SCBWI, I attended workshops and conferences, met agents and editors, and found a community of writers, near and far.
What advice would you give to parents or grandparents who wish to write books for children?
Do NOT write a "message" book. Kids pick up on that instantly and are turned off. People, especially grandparents, often tell me they want to write a book with a message. NO! Books must be fun, funny, inspirational, informative. In today's market, there is no room for a writer who wants to write just one book. You need a body of work. Write at least three brilliant manuscripts before submitting to an agent – and getting an agent is the way to go.
If they are ready to seek publication, where should they start? 
Form a critique group of no more than five writers who are writing for your genre. Also, SCBWI.org and the annual book, Children's Writers and Illustrators Market. That's what I did, but that was in the late 90s. The world has changed so much, and I really don't know how up and coming writers tackle the market now. I submitted When You Were Born to Candlewick Press, even though they said, "We do not accept unsolicited submissions." I figured I had nothing to lose so I submitted. Sold! So break the rules.
What is your next project?
A Beetle Is Shy, debuting in 2016. At this moment, I could use any ideas for a next book!
Posted March 30, 2015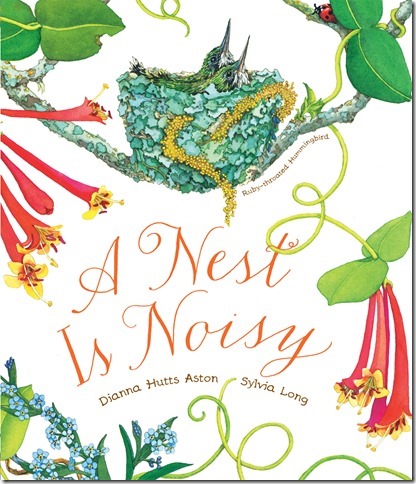 A Nest is Noisy is available on amazon.co.uk and amazon.com.
Joanna Norland's review of A Nest is Noisy is available on Goodreads.
Find out more about Dianna Hutts Aston at http://www.diannahaston.com
Click here for a video of  Leland Melvin, NASA Associate Administrator for Education and former space shuttle astronaut reading The Moon Over Star to elementary school students.