Writer Mother Profile:  Jennifer F. Steil
I wondered what would happen to a marriage if one person wanted to adopt a child, and the other didn't—and then they found themselves with a strange child in their care. . . Writing the scenes about the two different children was emotional. Those girls are very much alive to me. At one point an editor horrified me by suggesting that I kill off the baby, which was unthinkable to me."
The Ambassador's Wife is a novel as adventurous as its free-spirited protagonist, Miranda. With confidence and evident enjoyment, author, Jennifer F Steil explores the methods and strategies of high level diplomacy; the possibilities and dangers of cross-cultural friendship;  and–centrally–motherhood, in its many complex, and conflicting incarnations.
Set in the fictional Middle Eastern country of Mazrooq, Steil's first novel kicks off when Miranda, an artist, art teacher, and wife to the British ambassador, is abducted by terrorists. She is desperate to return to her husband and toddler daughter.  But when she is handed a starving baby to nurse in captivity, that bond changes her life in dramatic and unexpected ways — and ultimately forces her family  to make an impossible choice.
The Ambassador's Wife, Steil's first novel, will be adapted into a forthcoming TV series starring Anne Hathaway. Jennifer F Steil is married to the EU ambassador to Bolivia, whom she met on his prior posting in Yemen, during her stint as editor-in-chief of the English language Yemen Observer.  Her novel obviously draws on her idiosyncratic life experiences in a country where she experienced a (brief) abduction while hiking in the foothills, and where she became a mother.
I asked Steil to participate in a Mums Write! Interview because I wanted to find out about the challenges of integrating her rich life experiences as a writer-mother into fiction.
Can you talk about the genesis of this novel? How did you get the idea?
When I was six and a half months pregnant with my daughter, I was taken hostage one afternoon while out hiking with friends. Eight or so men with AK-47s surrounded us and accused us of being spies. Fortunately, I was able to ring my husband, who alerted the Yemeni government. After a tense standoff, a minister negotiated our release. It was not one of my better afternoons.
While this event was one of the initial seeds of the novel, it wasn't what I wanted the book to be about. When I began writing, I had just given birth to my daughter, so I was also thinking a lot about parenthood. I wondered what would happen to a marriage if one person wanted to adopt a child, and the other didn't—and then they found themselves with a strange child in their care. Which bond would win out, the bond with the child or the spouse? How would that tension change the marriage? This is not what The Ambassador's Wife ended up being about, but it was part of its genesis.
The more I wrote, the more issues arose. I thought about the dangers of westerners going to the Middle East to "free" the women. Interwoven with the story of Miranda's captivity is the story of her powerful relationships with a group of Muslim women she mentors, teaching them to paint and draw. Teaching them is thrilling, but trying to transplant western ideas of feminism in a culture unprepared for it can put women in danger. I think we also have an obligation to spend time listening to people in a new country, in order to find out what they want. What they need. Not what we think they should have.
I didn't set out to write about any one particular issue, but thorny things kept coming up. What happens when a mother is taken from her own child for a long time? What would happen if an ambassador's wife were taken prisoner? Could he keep his job? Would he leave the country? What are the effects of drone strikes in the Middle East? What are the limits of diplomacy?
Westerners tend to view Muslim women as powerless. I wanted to explore some of the ways these women have power. They have the power of their connections with family, with each other. I wanted women — Miranda's students — to play a pivotal role in the plot and its resolution. In many ways, these women are more powerful than Finn under the circumstances of the book.
What was it like for you, as a mother, to get inside the head of a woman who was separated from her family — or, for that matter, a woman who forges an attachment to a non-biological child that in some ways competes with the needs of her first born?
Writing the scenes about the two different children was emotional, but that didn't slow me down. Those girls are very much alive to me. Miranda doesn't see nursing the strange baby as a choice. The child is starving and she has milk. She feels she has a moral and ethical obligation to keep the girl alive. Yes, it distresses her to be giving her own daughter's milk to a stranger, but at the same time it's better that it feeds someone. And her daughter is old enough to survive without it. At one point an editor horrified me by suggesting that I kill off the baby, which was unthinkable to me.
Every novel is a journey. What has this novel taught you?  
Writing this novel made me think deeply about the effect of western people in the Middle East. Writing it allowed me to think through all sorts of complex issues—hostage negotiations, adoption, diplomacy, art, and intimacy. None of these issues are black and white to me. I see The Ambassador's Wife as very grey, in that its characters are complicated and flawed.
I also had to learn a considerable amount about art in order to write believably from the point of view of an artist. I loved learning about how hostage negotiations work and how evacuations are conducted. An awful lot of research went into this book.
I'm not sure that writing the book taught me too many new things about motherhood. I already believed that the bond with an adopted child could be as strong as a bond with a biological child. But when thinking through some of the debates Miranda and Finn have about adoption, I found myself siding with both of them equally. They both have legitimate points of view.
It is my daughter herself who is always teaching me new things about parenthood.
The Ambassador's Wife explores many kinds of motherhood — biological motherhood, adoption, the birthing of creative work, and teaching.  (Miranda is an artist and art teacher.)  In your life, how do the various types of motherhood you practice support — or compete — with one another?
I have written more since my daughter was born than at any other time of my life. I have also traveled more than ever before. Which are not the assumptions people generally make about the impact of parenthood on their writing! I am exceedingly privileged to be living the life that I am. It is easy to travel with one child. Childcare is inexpensive in the developing world. Diplomatic obligations can interfere with my writing time. Yet they also inspire me because I am always learning new things about our temporary homes. My daughter is also a source of inspiration. She is dreamy and creative and spends a lot of time in imaginary worlds. I sometimes find myself wanting to write down everything she says because she is such an incredible storyteller. So in the end, I find that everything in my life feeds everything else.
Your protagonist, Miranda, marries for love — and must then exchange a thrilling professional life teaching Mazrooqi women figurative painting (forbidden under the country's orthodox brand of Islam) for a glamorous but constrained existence as an Ambassador's "plus one". To what extent did the novel draw upon your own experience when you morphed from editor-in-chief of the Yemen Observer to your current role? How have you managed this transition — and has your writing helped you to find that balance? 
I think it is very strange for any woman who is independent with a career of her own to suddenly find herself being introduced to people as "So-and-so's wife." As if she were an accessory and not a person in her own right. This is something that does frustrate me a bit in the diplomatic world. I am always introduced as the ambassador's wife. Very rarely does anyone simply say, "This is Jennifer, an author and journalist." I was furious when I went to my first Damas Diplomaticas meeting in La Paz and found that the group's application asked for my husband's job title, but not mine. There was no place for me to list my own profession! That right there tells you a lot.
I am very fortunate, however, that I have a portable job that is enriched by our travel and experiences. Unlike wives (and alas it is still usually wives as too many ambassadors are still men) who were doctors or lawyers in their home countries, I can work anywhere. My profession helps me to maintain a sense of self. I am not a person who could live without working. I need to work every day or I start to lose my mind.
Can you talk a bit about your writing process? Specifically, how do you balance the intense, solitary work required for writing with your very public role as part of an ambassadorial family — not to mention your responsibilities as a mother?
I don't balance it at all, really. I am not sure balance is possible. What does balance mean? Does it mean I spend an equal amount of time doing each thing? Or that I spend a consistent amount of time on each? Neither is true for me. My schedule changes every day. Very little in our life is consistent. This is challenging, but also keeps us from ever getting bored. When I am in Bolivia, spending time with my five-year-old daughter and attending diplomatic functions with my husband, it is difficult for me to fit in more than three hours of work a day. So when I need to get a serious chunk of work done, say the first draft of a book, I go away for a few weeks to a writing residency. Residencies allow me to write every hour of the day. It is also motivating to be away from my family, in that if I am going to be away from the people I love most I had better be getting serious work done to make it worthwhile! The rewriting and editing is easier to do at home, in shorter time slots.
Can you compare your writing process now with the process for your first book, The Woman Who Fell From the Sky, which you completed before the birth of your daughter?
I found it quite easy to write my first book. After all, I already knew the story. All I had to do was organize it into a workable structure and write it. But with the novel, I started with nothing. I didn't know the plot. I figured it out as I went along. I have never been the kind of author who can write outlines and know exactly where everything is heading. I feel the story and characters lead me to the ending. I need to write my way there.
I had more uninterrupted time to work while writing my first book. Even so, I much prefer writing with a child underfoot! My daughter is the joy of my life and she inspires me every day.
This interview has explored ways in which motherhood informs your craft as a writer. Conversely, how does writing inform your experience of motherhood?
My daughter has absorbed my love of words by osmosis. I am fortunate enough to be able to eat three meals a day with her, and we love to read over every single meal. This means that we end up reading about four hours a day, if you count the books before bed. I am guessing that is one reason she began reading at the age of four. I never even started teaching her to read—she just taught herself and began reading one day at a truck stop in Vermont. It amazed me.
Because she is only five, she still adores me uncritically and wants to be like me. This means both that she wants to dress like me and that she wants to write books—and she does! They are mostly about bunnies, but the illustrations are fabulous.
Often I find myself narrating our lives in my head.
What advice would you offer to other mothers who wish to write about the experience of motherhood?
Write every day! Even if it's in tiny chunks of time. If you are awake before your kids (I can't sleep past dawn so am nearly always awake before my daughter), spend 15 minutes writing. Commit to a daily practice. I also recommend taking time away from family, even if it is just a weekend. That gives you the clarity to pursue longer bits of writing. Because I am the mother of a girl, it is important to me that she sees me working, having a career. I want her to have an idea of all that is possible for her.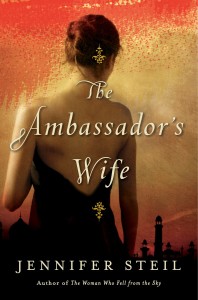 Jennifer F Steil's first novel, The Ambassador's Wife, is published by Doubleday press.  In 2011, Doubleday released The Woman who Fell From the Sky, Steil's first-hand account of her experiences as editor-in-chief of the Yemen Observer. She holds a masters in journalism from Columbia University. Anne Hathaway will produce and star in a forthcoming TV adaptation of this novel.