When I read a post from another blogger entitled 'Reality Check: You're not going to make money from your blog,' it really pissed me off, and the challenge to become a successful blogger and make money was on.
44 year-old Susie Johnson of Brookfield Connecticut, runs three businesses, including a popular e-fitness course.  Oh, yes, and she blogs about raising seven kids. Seven days a week.
In the three years since she launched Not Your Average Mom (NYAM), she's developed a following of over 30,000 monthly readers, appeared on the Dr. Oz Show (a popular American health talk show) and has ruthlessly defended her position as the number one blogger on topmommyblogs.com.
What makes her blog stand out is her plain spoken opinions — which she does not hesitate to reassess in subsequent posts — as well as her candor about the grittier sides of parenting, marriage, and keeping a family afloat.
I asked her to be profiled on Mums Write because I wanted to find out how she manages to blog every day — and what keeps her at it.
Why did you decide to launch NYAM, and how did you go about it?
I started the blog for a number of reasons. I was looking for something flexible that I could do from home, around the schedules of all the kids. With the number of kids we have, I had plenty of material to write about. And I had hopes of making money. When I read a post from another blogger entitled "Reality Check: You're not going to make money from your blog," it really pissed me off, and the challenge to become a successful blogger and make money was on.
"Always evolving" is part of your tag line. Can you talk about how the blog has evolved in the past three years?
It started as humor blog. But I also wanted to write about how I was far from a perfect mother. Because I think we all feel like failures at some point along the way (or many points), but we think we are the only ones feeling that way. Then the Sandy Hook Elementary School shootings happened.[On December 14, 2012, in Newtown, Connecticut, when 20-year-old Adam Lanza fatally shot 20 children and 6 adult staff members at a school.]
I felt compelled to share my battles with mental illness after that, and once that happened, I recognized the importance of putting things out there. And being vulnerable. So that's what I do.
Why do you think the NYAM is so popular?
Well, I think I write about stuff that a lot of people can relate to. And I'm not afraid to put it all out there. I'm told that people appreciate my honesty. And I think it's funny, too.
Can you describe your writing process?
I used to write early in the morning before the kids woke up, but somewhere along the way, my schedule changed around, and now I usually write at night after the kids go to bed. I sometimes have a bunch of ideas rattling around in my head. Other times, something funny or sad or annoying or inspirational happens with the kids (or myself) and I'll write about that.
But I'm a wing it kind of chick. There's not much process. I write a post, try to proofread it, hope not too many errors make it through, and that's about it.
How did you learn to write so persuasively and entertainingly?
I can't say I learned anywhere. I kind of just discovered I was not bad at telling stories. And I consider myself to be more of a storyteller than a writer, really. But writing every day certainly helps. The way I write has definitely changed over the past three years.
I'd say you definitely become a better writer the more you do it.
Do you look to other writers or bloggers for inspiration? If so, who?
Actually, I don't. I'm not really a blog reader. I'm like the actress on a TV show who doesn't own a TV. It's just not really my thing. Maybe once all the kids are in school I'll have time to do that. But right now, the only blog I really have time for is mine!
You write with unusual candor about your children and your marriage, as well as some very personal struggles. How does your family feel about this?  Are there any boundaries — e.g., topics or issues that are off limits?
There are some things I don't write about. I write about my marriage, but I don't write about my husband, really. "Number 2" [her second oldest child] doesn't like to be mentioned much and doesn't  really want to have his picture on the Facebook page, so I respect that.
I do run things by my husband. There are some things he has told me he doesn't want me to share. So I don't.
What motivates you to stick to your self-imposed daily deadline? 
I'm an all-or-nothing kind of person. So it's really because I'm afraid I'll totally fall off the wagon if I don't commit to writing every day.
What is the hardest part about mommy blogging?
Hmmmm. Not reacting to stupid comments is a real challenge for me. And staying disciplined can be difficult.
What is the best?  And what have been some of the high points?
Making people laugh feels good.  Getting messages from women (and men!) telling me I've inspired them or helped them in some way is extremely fulfilling.
Over the course of the three years that I have been writing this blog, there have been lots of highs. I've been invited onto the Dr. Oz show three times. I have been published in books and on the Huffington Post and in Parents Magazine. I never, ever thought I would say that.
But the most rewarding and fulfilling aspect of the blog has been using it to help other people. In the last three years I have raised over US$20,000 for charity and those in need. One of these people in need was a young woman who wrote to me looking for advice. She was in an abusive relationship and really struggling. And I answered her question in a blog post. From there it snowballed. The entire community of readers supported this girl, and she ultimately built up enough strength from the support she received to move out. We raised over $5000 for her, helped to get her set up in a new apartment so that she could make a fresh start. That was one of the most rewarding experiences of my entire life.
Has blogging changed your life?
Wow! It has affected so many areas of my life! Again, it all comes back to that vulnerability. The more I put out there, the lighter I started to feel.
I have shared about our financial struggles. About filing for bankruptcy. I have shared about issues in my marriage. About my shortcomings as a parent. About my ups and downs with weight loss. About a previous relationship that was abusive. About my struggles with mental illness. And there have been a few haters and Judge Judys along the way, but 99 percent of the feedback I have gotten has been overwhelmingly supportive and understanding.
Rather than feeling any shame or embarrassment, I have learned that there is a huge support network out there for us moms. But you don't find it by pretending to be perfect. You find it by being real. So there is the community I have gained.
Then there is the aspect of accountability. When I write a post about the fact that I'm done yelling at my kids, I have announced that to thousands of people. When I decide to give up sugar five days before Christmas and publish that on the blog, it helps me to stay on track.
I have received many, many, many emails and messages from readers who have told me that I inspire them or motivate them, and I love that. But the fact of the matter is, as much as I am told I am helping readers of the blog, I think the readers of the blog are helping me even more.
Can you talk about some of the challenges of running a blog as a profit-seeking enterprise?
I think a lot of bloggers start blogging with the hopes of getting paid for advertising. The amount of money you can earn is based on how many "unique visitors" and page views you have each day. It is difficult to get to the point where you can make any significant money through advertising. Plus, the market is pretty saturated with "mommy bloggers" now. There are a bazillion bloggers out there. So having a blog that stands out from all the others is really important. And that's also a really hard thing to do.
Making money through advertising can be done, although it takes work. And the payout is not sizeable until you get well over twenty thousand unique visitors per month. That takes time.
For me, I have been able to profit in other ways. Like I said before, being vulnerable led to me writing a whole series of weekly weight loss posts where I posted pictures of myself in bike shorts and a sports bra as I worked to lose all the weight I had gained over the course of five pregnancies.
That led to me ultimately developing an online fitness course. I have a big audience to advertise that to, and I make more money from the e-courses than I do from advertising. So you might need to think outside of the box a little, or focus on one area or topic of your blog that readers really relate to. It's not easy, but it can be done.
What are some of the do's and don'ts for moms trying to turn their blogs into a business?
Dos: Write often. Write about what you know and what you are passionate about.
Don'ts: Don't be afraid to have an opinion!
What advice would you offer other Mom Bloggers aspiring to your success?
I guess it's the same as above. Write as often as you can. Schedule it into your day like you would an appointment. Be vulnerable!
What are your goals for NYAM in the next few years?
My goal is to continue enjoying what I do. To continue to help other moms get through motherhood without losing their minds. To inspire mothers and women. To be a nationally (and internationally) known website where moms (and dads) can go for a break or for in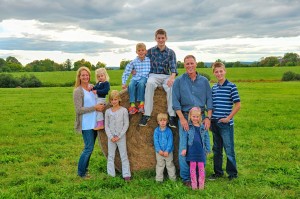 spiration or for support. To use the blog to continue to raise money for charities and people who are in need.
Do you aspire to writing a book?
Maybe someday, but right now finding time to write a blog post is tough enough. That may be a project for when all the kids are in school full-time.